RESOURCES
Teacher Professional Development

Many of our members offer professional development opportunities for educators. Click on the logos below for more information.
---
---
Job Opportunities in Environmental Education




Recycling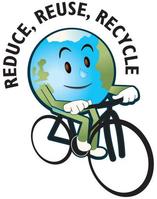 Richmond County, GA
South Carolina
Columbia County, GA
Aiken County, SC
McDuffie County, GA
Edgefield County, SC
Burke County, GA
McCormick County, SC

Earn money for your school/scout troop/church group/etc. through recycling!
Terracycle
collects everything from candy wrappers to wine corks, then upcycles or recycles them. They pay dividends in a "trash for cash" style program.
Paper
Public facilities accept dry office paper, colored paper, newspaper and inserts, and magazines. Shredded paper must remain separate and be contained in a cardboard box.
Lost Wilderness Recycling Center
in Clarks Hill, SC will accept shredded paper.
Cardboard
Corrugated cardboard and paperboard may be remitted to any recycling location.
Plastic
Public facilities accept all plastics marked with the recycling symbol containing the numbers
1 or 2 only
. Remove caps and lids. Rinse. Labels do not need to be removed.
Through
Preserve's Gimme 5 program
, some stores will accept #5 plastics for recycling. Check
here
to find a participating retailer near you.
Glass
Glass is accepted for recycling at several locations in Richmond County:
Eisenhower Park (1488 Eisenhower Dr.)
Julian Smith Casino (2200 Broad St.)
Warren Road Community Center (300 Warren Rd.)
Augusta-Richmond County landfill (4330 Deans Bridge Rd.)
Columbia County
accepts unbroken glass jars and bottles.
Whole Foods Market
accepts glass (along with paper and plastics) at the 2907 Washington Rd. store.
Cooking Oil
Used cooking oil is accepted for recycling at the JB Messerly Water Pollution Control Plant at 1820 Doug Barnard Parkway in Augusta. Many other public and private facilities will recycle used cooking oil at no charge.
Metal
Public facilities accept aluminum beverage cans and scrap aluminum. Rinse. Labels do not need to be removed. Foil and pie pans are NOT accepted.
Tin, copper and steel are recycled at most public facilities, but also can be sold to
Newell Recycling
.
Electronics/Computers/Cellphones
Many counties in the CSRA recycle electronics. Some companies, such as
Forerunner Recycling
, will set up a specific day for your office.
Cell phones and home computer parts can be recycled at some public facilities,
Goodwill
, and
Batteries Plus
.
Batteries
Alkaline batteries can be disposed in regular garbage. Alkaline batteries originally were of environmental concern because they contained mercury. In the past decade, alkaline batteries have been redesigned with no mercury added.
Vehicle batteries: Used automotive, light truck, marine and lawn mower batteries may be remitted to many public facilities in South Carolina. Many auto supply stores and repair facilities also accept used care batteries.
Batteries Plus
will accept the following batteries for recycling, as well as portable electronic devices such as cell/smartphones, laptops/notebooks, MP3 players, PDAs and portable tools.
Lead acid (Pb) batteries used in cars, trucks and emergency lighting

Nickel Cadmium (NiCd) batteries used in cordless phones, cordless tools and two way radios
Nickel Metal Hydride (NiMH) batteries used in camcorders, bar code scanners and digital cameras
Lithium Ion (Li Ion) or Lithium Polymer (Li Poly) used in cell phones and laptops.

CFL's/Fluorescent Bulbs
Green-tipped "throwaway" bulbs can/should also be recycled. Lowe's and Home Depot stores accept spiral & other small fluorescents for recycling. Customers can bring in any expired, unbroken compact fluorescent light (CFL) bulbs, and give them to a store associate at the returns desk. The bulbs will be turned over to an environmental management company for recycling.
Printer Cartridges
See instructions on replacement cartridge box. Each box contains directions and shipping labels to recycle used cartridges. Office supply stores such as Staples also recycle these.
Paint Cans
Empty cans. Remaining paint residue must be completely dried. Cans may be placed in recycling center scrap metal bins.
Motor Oil
Most auto supply stores or repair facilities will take up to 5 gallons of used oil. South Carolina county facilities will recycle gas/oil mixtures, oil filters, kerosene, hydraulic fluid, gear oil, diesel fuel, fuel oil, automatic transmission fluid, and power steering fluid, and may take up to 55 gallons of "farmer oil."
Tires/Toxic
To recycle, public facilities usually require proof of residence in the County.
McCormick County recycling centers
will accept car and light truck tires (limit: 4 per visit). No oversized, off-road tires, or tires with rims will be accepted.
---