Stewardship through Education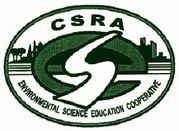 The Central Savannah River Area Environmental Science Education Cooperative is comprised of federal, state, and private governmental agencies, businesses, and non-profits who are committed to environmental education. These member organizations volunteer their time and resources for outreach programs, teacher education efforts, and on-site education programs to further the mission of the CSRA-ESEC.
The mission of the CSRA-ESEC is to promote the CSRA as the center for excellence in environmental science education and to provide information and access to programs for the community to become more effective environmental stewards through science education, research, technology, and public outreach.
Each May, we host the CSRA-ESEC Eco-Meet, an environmental science competition for middle school students in the CSRA. Visit our Eco-Meet Page for more information.
Check out our facebook page to stay up to date with current events:
www.facebook.com/csraesec
​
Our member organizations have a variety of offerings ranging from Earth Day family festivals to nature hikes to school field trips. Just click on their link from our Members Page to see what's happening nearby.
---